Costruito completamente in acc. inox AISI 304. Vasca con fondo inclinato, con una profondità che consente il rassodamento anche di prodotti di grande pezzatura.
Il piano di avanzamento del prodotto è composto da pannelli modulari in acc. inox smontabili con estrema facilità. La movimentazione del piano è all'esterno della vasca. Un nastro in acciaio inox a maglie larghe, facilmente lavabile e sanificabile, provvede all'estrazione del prodotto. Quadro elettrico ed oleodinamico di comando e di controllo in cassa stagna in acc. inox.

CARATTERISTICHE TECNICHE:
Potenza installata: kW 3
Lunghezza: a richiesta
Larghezza: a richiesta
Altezza da terra: 700 mm.
Profondità vasca: 400 mm.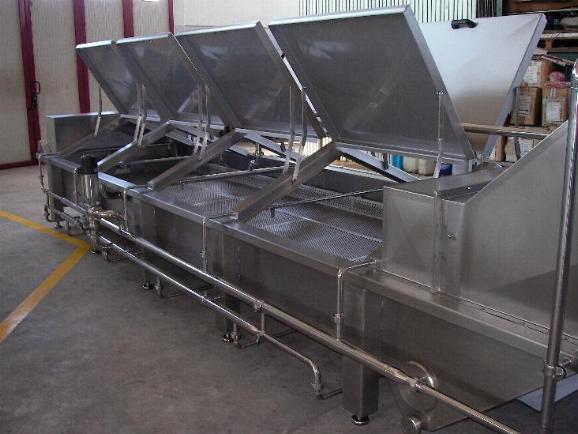 AUTOMATIC HARDENING PLANT MOD. V.R. 12
Completely made of stainless steel. Vat with sloping bottom with depth enabling also the cooling of big size products. The advancement plane for the product is composed of modular panels made of stainless steel, very easy to disassemble. Oleodynamic working of the above mentioned plane.
The motion device is outside the vat.
The vat is equipped with an automatic device for the product extraction, consisting of a stainless steel belt, very easy to be cleaned. Electric and oleodynamic control board in a water tight stainless steel box.

TECHNICAL FEATURES:
Installed power: kW 3
Lenght: on request
Width: on request
Height from the ground: 700 mm.
Vat depht: 400 mm.
These data are purely indicative and can be varied without warning.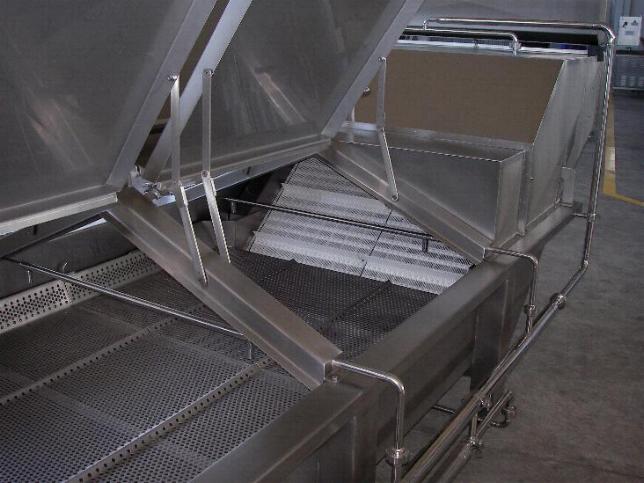 INSTALLATION AUTOMATIQUE POUR LE REFROIDISSEMENT MOD.V.R.12
Entièrement réalisée en acier inox Aisi 304.Cuve avec fond incliné et avec une profondeur qui permet même le refroidissement des produits de grosse taille. Le plan d'avancement du produit est composé par des panneaux modulaires en acier inox, très faciles à démonter. Le dispositif de mouvement du plan est à côté de la cuve. Dispositif pour l'extraction du produit, avec un tapis en acier inox, facilement démontable. Panneau électrique et hydraulique de commande et de contrôle en caisse étanche en acier inox.
DONNÉES TECHNIQUES:
Puissance électrique installée: 3 kW
Longueur: sur demande
Largeur: sur demande
Hauteur de la terre: 700 mm
Profondeur de la cuve: 400 mm.
Les données sont purement indicatives et peuvent être changées sans aucun préavis.
ROVERSI UMBERTO E FIGLI MASSIMO E FAUSTO & C. S.N.C.