Elevatore Video - Automatic elevator/click here to watch the video
Linea per clippato Video - Line for the production of clipped cheese/click here to watch the video
Lavorazione pani di cagliata con Cuocitore ed Elevatore Video - Curd loaves processing with Cooker and Elevator video/Click here to watch the video
Lavorazione Formaggio da grattugiare Video - Cheese for grinder processing video/Click here to watch the video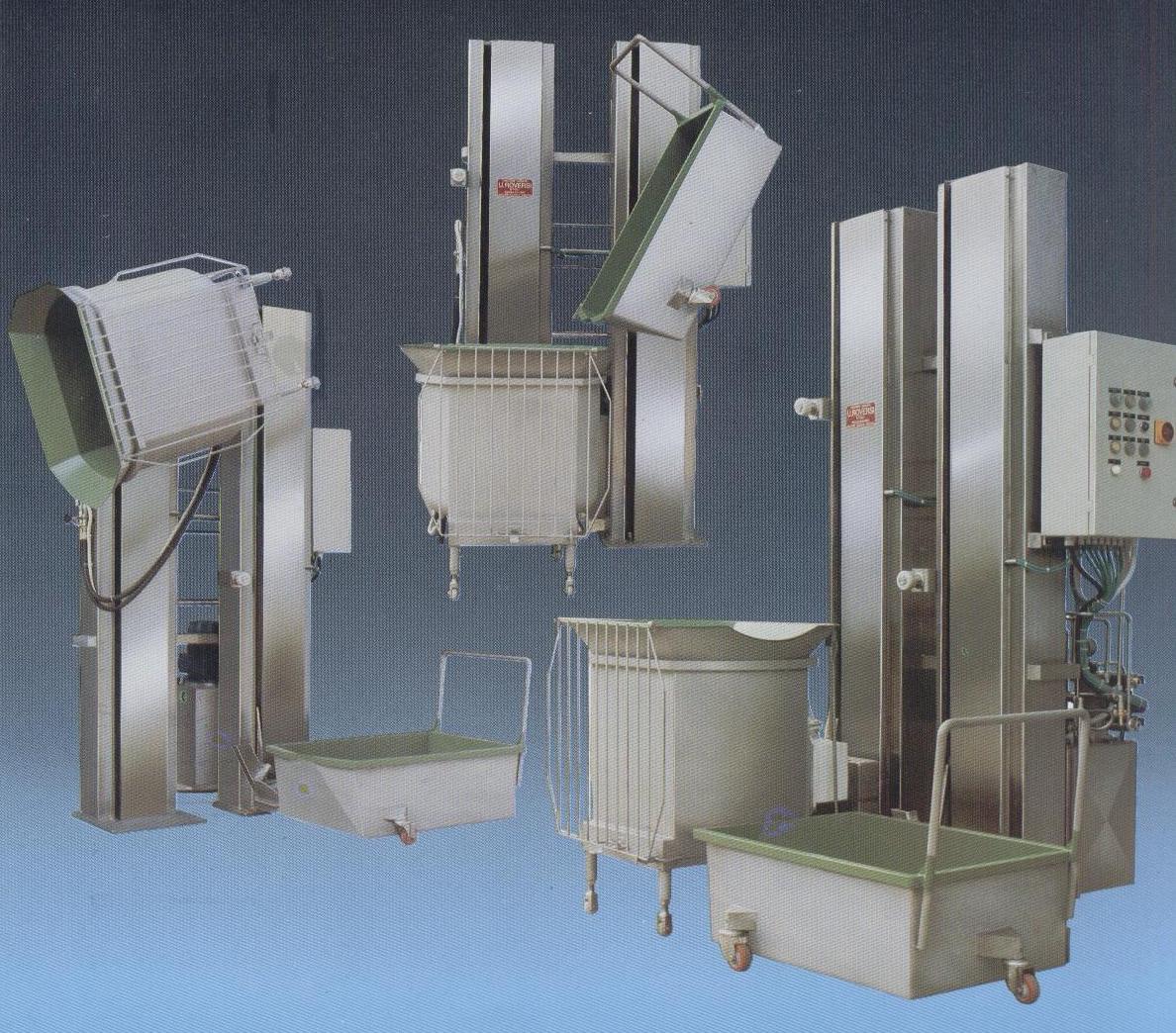 Elevatore ribaltatore automatico completamente in acc. inox. Sistema di ribaltamento del carrello di raccolta prodotto in una impastatrice ad aspi rotanti in senso contrario tra loro, velocità variabile con invertitore del senso di rotazione e ribaltamento della stessa in una formatrice o estensore.
In questo modo è possibile la lavorazione di notevoli quantità di prodotto per volta, evitando inoltre qualsiasi contatto manuale con il prodotto. Composizione del gruppo: 1 carrello, 1 impastatrice, 2 sistemi di sollevamento e ribaltamento, 1 pannello di comando e di controllo dell'intero ciclo di lavorazione. Tutte le parti a contatto con il prodotto sono teflonate per garantire la massima antiaderenza.

I dati sono puramente indicativi e possono essere variati senza alcun preavviso.

AUTOMATIC OVERTURNING ELEVATOR E.M.R.150
Automatic overturning elevator completely made of stainless steel. The trolley containing the product overturns into a mixer with blades turning in opposite directions at variable speed, with rotation reverser and overturning into a shaping machine. It is possible to process a notable amount of product each time with absolutely no manual contact with the product itself.
Composition: 1 trolley, 1 mixer, 2 lifting and overturning systems, 1 control panel to monitor the entire processing cycle. All parts in contact with the product are covered with non-stick Teflon.

These data are purely indicative and can be varied without warning.

ÉLÉVATEUR BASCULEUR AUTOMATIQUE MOD.E.M.R.150
Élévateur basculeur automatique entièrement en acier inox.
Système de basculement du chariot de récolte du produit dans un malaxeur à rouets tournantes en sens inverse entre eux ; vitesse variable par inverseur du sens de rotation et basculement du malaxeur dans une machine à mouler ou à étendre. De cette manière il est possible de travailler chaque fois une quantité considérable de produit, évitant en outre tout contact manuel avec le produit.
Composition du groupe : 1 chariot, 1 malaxeur, 2 systèmes de levage et de basculement, 1 panneau de commande et de contrôle de tout le cycle de préparation.
Toutes les parties en contact avec le produit sont téflonisées pour garantir une anti-adhérence absolue.

Les données sont purement indicatives et peuvent être changées sans aucun préavis.

ROVERSI UMBERTO E FIGLI MASSIMO E FAUSTO & C. S.N.C.