Lavorazione cagliata Video - Curd Processing Video/click here for the video
Lavorazione e uscita prodotto Video - Processing and product exit/click here for the video
Panoramica cuocitore Video - Overview of the cooker/click here for the video
Cuocitore e Filatore Video - Boiler/Mixer and Stretching Machine Video/click here to watch the video
Lavorazione pani di cagliata con Cuocitore ed Elevatore Video - Curd loaves processing with Cooker and Elevator video/Click here to watch the video
Lavorazione Formaggio da grattugiare Video - Cheese for grinder processing video/Click here to watch the video
Lavorazione Mozzarella di Bufala Video - Production of Buffalo Mozzarella/Click here to watch the video


ALTRE FOTO / MORE IMAGES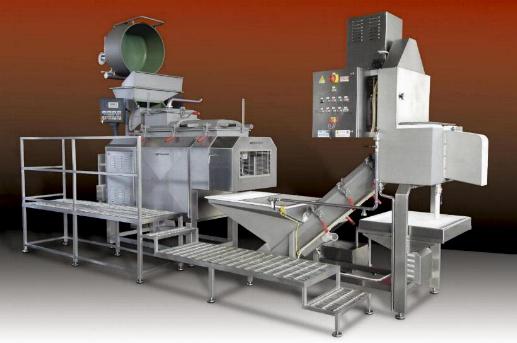 Gruppo composto da: Macchina Cuocitore F.O.A.2.C./Filatore/Elevatore
Group composed of: Machine Mod. F.O.A.2.C./Stretching Machine/Elevator
Groupe composé par Machine Mod. F.O.A.2.C/Machine à filer/Elévateur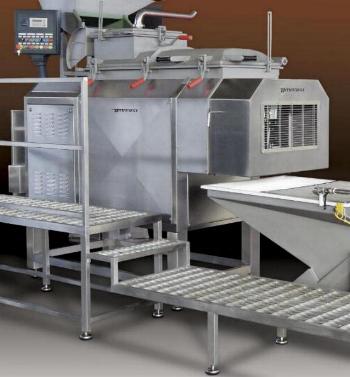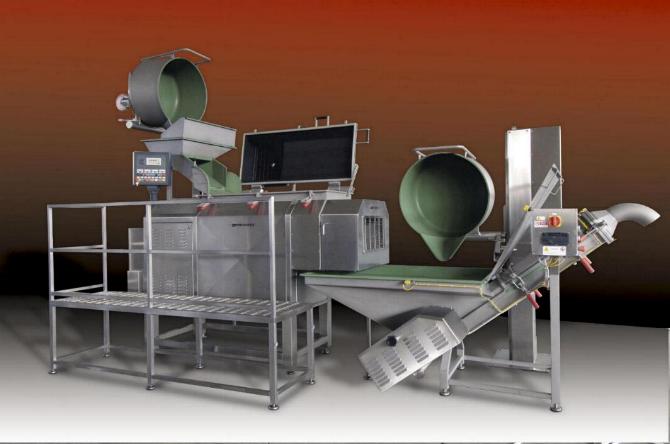 Gruppo composto da: Macchina Cuocitore F.O.A.2.C./Raccoglitore/Elevatore
Group composed of: Machine Mod. F.O.A.2.C./Collector/Elevator
Groupe composé par Machine Mod. F.O.A.2.C/Ramasseur/Élévateur
Un passo d'uomo di grandi dimensioni consente una agevole alimentazione di tutti gli ingredienti necessari alla lavorazione, e un'apertura totale del portellone superiore permette una completa accessibilità a tutto l'interno del cuocitore. Le coclee di spinta e miscelazione sono comandate da due inverter di grande potenza.
FUNZIONAMENTO:
Il Cuocitore/filatrice a vapore è dotato di due coclee indipendenti tra loro, che funzionano nei due sensi di marcia (avanti e indietro), anche a velocità differenti tra loro, e comunque variabili in qualsiasi momento e fase della lavorazione. Ottenuta la filatura del prodotto, allo scopo di facilitare le operazioni di scarico è inserita sul quadro comando una funzione speciale di avanzamento lento delle coclee, con apertura automatica del portello anteriore. Una speciale teflonatura (antiaderente) non permetterà al prodotto di incollarsi alle pareti e alle coclee del cuocitore, consentendo così uno scarico totale e una perfetta pulizia. Nella parte meno esposta all'acqua e al vapore, è posizionato un pannello di comando e di controllo, con le varie fasi di lavoro evidenziate sullo stesso.
CARATTERISTICHE TECNICHE:
Produttività: fino a 2.000 kg/h a seconda
del prodotto.
Capacità di lavorazione: fino a 500 kg. per volta
Coclee: a velocità variabile, indipendenti.
Modo di spinta: variabile nei due sensi.
Movimentazione coclee: tramite inverter.
Portello di scarico: automatico comandato dall'operatore.

I dati sono puramente indicativi e possono essere variati senza alcun preavviso.

HORIZONTAL COOKER/STRETCHING MACHINE FOR CURD/CHEESE MOD. F.O.A.2.C.G WITH TWO SCREWS.
A large sized manhole allows a handy feeding of all the ingredients to be processed. The upper hatch opens completely, thus granting an easy access into the cooker. Two very powerful inverters operate the thrust and mixing screws.
FUNCTIONING:
The steam cooker-stretching machine is provided with two independent screws. They work in both directions (forwards and backwards). They can also have different speeds one from the other, which can anyway be modified at any moment or during any process step. Once the stretching of the product is achieved, a special function can be operated from the control panel. This special function serves the purpose of making the unloading operations easier. It provides a slow feeding of the screws along with an automatic opening of the front hatch. A special teflon coating (non stick) prevents the product from sticking to the walls and to the screws of the boiler, thus enabling a complete emptying and perfect cleaning. The part more protected from water and steam is equipped with a control panel and a testboard showing all the processing steps.
TECHNICAL FEATURES:
Yield: up to 2.000 Kg/h depending on the
product.
Process capacity: up to 500 Kg at a time.
Screws: adjustable speed, independent one
from the other.
Thrust: two directions, adjustable.
Screws movement: through inverter.
Unloading hatch: automatic, driven by the operator.

These data are purely indicative and can be varied without warning.

MACHINE HORIZONTALE À CUIRE ET À FILER POUR CAILLÉ/FROMAGE
MOD. F.O.A.2.C.G AVEC DEUX VIS SANS FIN.
Un espace d'accès considérable vous permettant d'insérer aisément tous les ingrédients et l'ouverture complète du couvercle supérieur vous rendront plus accessible que jamais l'intérieur de votre machine à cuire. Les vis sans fin pour pousser et pétrir sont entraînées par deux inverseurs très puissants.
LE FONCTIONNEMENT:
Votre machine à vapeur pour cuire et filer est équipée de deux vis sans fin indépendantes qui fonctionnent dans les deux sens (avant et arrière) à vitesses différentes pouvant varier à tout moment. Une fois les aliments ont filés, une modalité spéciale de progression lente des vis sans fin est prévue par le tableau de commande pour faciliter le déchargement du produit par l'ouverture automatique du couvercle de devant. Un revêtement en teflon (anti-adhérent) a été spécialement conçu pour empêcher le produit de coller aux parois de la machine et à ses vis sans fin, cela vous permettra d'en décharger complètement le contenu tout en gardant votre machine très propre. Un tableau de commande a été positionné dans la partie la moins en contact avec l'eau et la vapeur pour contrôler les phases du travail de votre machine.

DONNÉES TECHNIQUES:
Production horaire: jusqu'à 2.000 Kg/h en fonction de
l'aliment.
Capacité de production: jusqu'à 500 Kg. à la fois
Vis sans fin: à vitesse variable, indépendantes.
Modalité de pétrissage: variable dans les deux sens.
Fonctionnement des vis sans fin: par inverseur
Couvercle de déchargement: automatique, actionné par un opérateur.
Les données sont purement indicatives et peuvent être changées sans aucun préavis.

ROVERSI UMBERTO E FIGLI MASSIMO E FAUSTO & C. S.N.C.